Almost couples are curious about their kids-to-be. Some want to have twins while the others want to have one child. Truly, it's not hard to know about the number of children you will have in the future. Just consult free palm reading online and then you can know how many children you will have. Observe lines on your palm and then you can disclose lots of secrets behind your palm. Be ready to explore? Here we are!
Palm Reading
Study Children Lines to know the number of your kids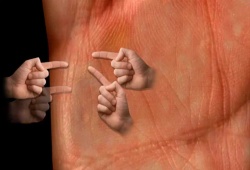 How can I determine the children lines on my palm? Look! Do you see vertical lines intersecting the marriage line? They are called Children line, and they reflect the sentimental bond with the kids in your lifetime from adopted children to nephews or nieces. Thanks to the energetic relationship, some characteristics of children-to-be will be interpreted in the parents' hand clearly. As the parents will take their baby's energy, these lines on the mom's hand will call for some insights.
To some Western palm readers, the Children lines are considered as the greatest indicators so that expectant moms can explore some significant things as how many children they will have, their kids' health, suitable career, etc. Although nobody can receive an accurate result from palm reading, the predicting pieces are just for reference.
Turning to the past time, some ancient palm readers who practiced palm reading will explore a woman's fertility potential instead of the real number of children that she could give birth to. Well, those who have no the Children line might end up their marriage with no kids because of their potential for the partner's earth death, for example. But, at this time, some people can take at ease to adjust the number of kids that they want to have. Hence, the practice of determining the Children line somehow loses its efficiency in the eye of adults.
Try to look at some examples about the lines of Children below:
If your Children line is find and narrow, it signifies a baby girl.
If it is deep and broad, it signifies a baby boy.
If this line appears on the man's palm, that means he will be interested in children.
In case that your Children line is faith, your children might be dedicating.
If this line is broken, your kid development could be impeded.
Of course, you can ask us any detail referring to the question "How Many Kids Will You Have With Free Palm Reading Online?" Type what you need in the box and wait for our supportive responses! We are always ready to support you.
---
Terms:
how many kids will i have palm reading