According to palmistry, there are three major lines on a person's palm, including Heart line (emotion energy), Head line (mental energy) and Life line (physical energy). Of course, you can find out all three lines on every person's hand. At this time, we will talk about palm reading for Heart line and know about its importance and influence. The Heart line is the horizontal line and above the Head line. It starts under either the middle finger or index finger and runs across to the edge of the palm on the side of the little finger. This line mainly expresses feelings and sentiments that are all about love.
How to read the Heart line on your palm?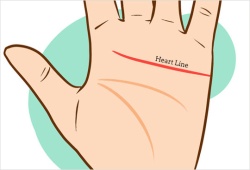 If your Heart line is continuous and long and bends upward to touch the mount under the index finger, it strongly indicates a huge ability to show love and love with inspiration. You are quite emotional, open and honest. In case that this line is long, but it comes down towards the thumb, your love will be quite realistic i.e. you always want to receive reasons from your lover.
If the Heart line is round and approaches between middle and index fingers, you will have a tendency to be emotional, and you need to ensure your decisions are not controlled by your sentiment. If the line is quite short i.e. it ends under the middle finger or the ring finger, you could be unwilling to express your feelings. You often have a first choice for your comfort, physical passion and sensual pleasure than your emotional depth.
To those who don't have the Heart line, they might be controlled by logic than sentiment. If their line is rather faint, they will be aloof and rarely attach much important to their emotion. When the Heart line is broken or has some small lines crossing it, it will mention sentimental injuries. In case that your Heart line parallel and straight to the Head line, you will be a good controller on your emotions. When this line collides with the Life line, your heart might be broken easily when confronting bad news about love.
All in all, here is just a very short presentation of the Heart line. It's assured that you are able to discover more information on other sources. Remember that it's just for reference only. In case that you want to add further details about this subject "Palm Reading For Heart Line" , don't mind sending your request or take a photo of your palm, and then send it to me to get a supportive answer. We're pleased to help you.
---
Facebook Comment