Truly, palm reading has widely developed for a long time as an interesting and fascinating passage to the unknown and unexplored events. Relied mainly on the shape, length, and other specific traits of lines on the palm, the art of palm reading has a tendency to be personal. Here are top 9 ways to read palm reading easily for beginners. Spend your free time and take a look below now!
Palm Reading
A clear guide to palm reading
# Step 1 – Select the accurate hand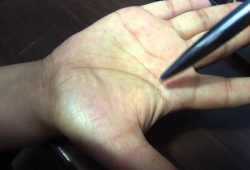 Commonly, palm readers will choose the customer's dominant hand to read palms. So, how to determine the dominant hand? The hand that you use most will be the dominant hand. Since many cultural differences and the palm reader's unique styles, there are some various concepts about the significance of the left and right hand. Therefore, the best way is to read both hands.
# Step 2 – Recognize the four main lines.
They include Heart line, Head line, Life line and Fate line.
# Step 3 – Interpret the Heart line.
This line mainly controls the bearer's emotions and issues about love and relationship. On a common basis, the deeper the Heart line is, the warmer his commitment will be.
# Step 4 – Interpret the Head line.
In a palm reading chart, this line commonly controls the bearer's intellect, beliefs, and mentality. If it bends upwards towards the pinkie, he is a sensitive person,
# Step 5 – Interpret the Life line.
This line will stand for the bearer's vitality and health. It mainly signifies the quality of his life, not the length. If this line is downwards, he will be an introvert and pessimist.
# Step 6 – Interpret the Fate line.
This line is described as one of the most important lines in the bearer's palm although not all people have this line. If there are many breaks in this line, it discloses that you have difference changes in life.
# Step 7 – Recognize the hand shape
Fire hands include rectangular and square palms with flushed or pink skin.
Earth hands include broad square palms and fingers, with rough skin.
Water hands include long flexible conical fingers and short oval-shaped palm.
Air hands include square or rectangular palms and long fingers, with dry skin.
# Step 8 – Observe the mounts
Mount of Jupiter – below the index finger – mentions leadership skills, fortune, and education.
Mount of Apollo – below the ring finger – mentions creativeness, tenderness, and energy.
Mount of Venus – below the thumb – mentions beauty and love.
Mount of Mercury – at the base of the pinkie – mentions versatility, humor and business talents.
Mount of Moon – at the lower side towards the end of the palm – mentions passion, timidity, and creativeness.
Mounts of Saturn – below the middle finger – mentions practicality, patience, and hard work.
# Step 9 – Figure out the finger and hand size
Some reckon that large hands are introspective and slow to the action while those who have small hands are active and don't live in thinking. Keep in mind that this size is relative to the body. If you have long fingernails, it means that you will be a good secret-keeper. If having the short fingernails, you might be sarcastic and critical. What's more? To those who have long fingers, they could be an indicator of tension, but be good-looking and delicate. To those who own short fingers, they will be creative and impatient.
Are you clear about top 9 ways to read palm reading easily for beginners? In case that you still have any question about this topic, be quick to type all your inquires in the box available online. We will send you supportive answers in the soonest time.
---